My post heading is actually a bit off – we're actually into our second week of our kitchen remodel demo, so I thought I'd give you the lowdown on the good, the bad and the ugly. We're still getting used to living without a kitchen, and that's a frustrating challenge to say the least. We're just trying to get organized and keep track of where everything is. But we're managing.
Kitchen Remodel – Demo
It's amazing how quickly they tore everything out and got it out of here! Within the first couple of days, the cabinets and walls were removed.
Before –
End of Day One
End of Day Two
I can't tell you how happy I am to see that pyramid-like step thing above my hood, GONE.
Our dog, Murphy, has been all out of sorts with the activity and noise here. He just doesn't quite know what to do with himself.
Kitchen Remodel Tile Demo
By the third day, they started on tile removal. Our contractor was dreading this part of they job, and told me that our tile job was the biggest he has done. Yikes.
They had rented a machine to help remove it, but it didn't end up being a viable option. Even if they were able to get it going, it ended up cutting through the subfloor, which is no good. One of the guys on the crew YouTubed some tile removal techniques, and came up with something genius.
See the wood wedges? Those allowed them to get large areas of tile up all at the same time. Would you believe they removed 8,000 POUNDS of tile materials?!?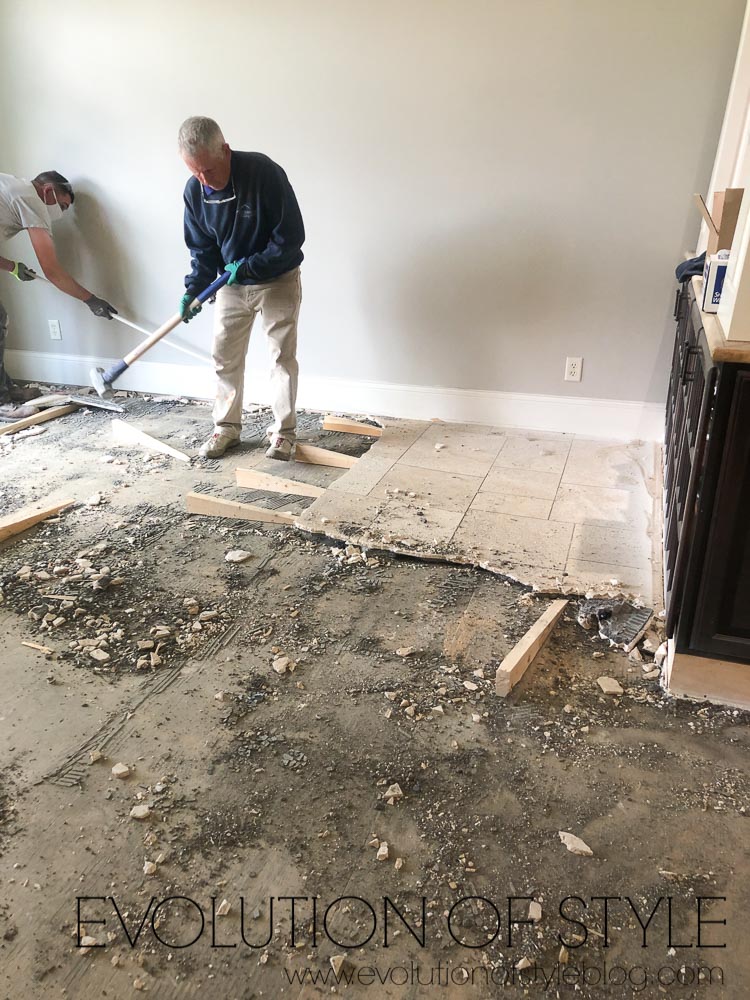 A mess, yes. But this whole process moved way faster than I expected it would, and it was far less dusty than when we had the tile in the basement removed. And, the ugly tile is gone.
Another peek at the before and after of this space as it stands now – coming in from the front door.
And now – electrical going in today.
Things are definitely moving along, but timing for other things is going to drag this along for longer than I would like. But, it is what it is at this point – we're living through the kitchen remodel demo process. Appliance delivery is proving to be an ongoing nightmare, even though we ordered our appliances on March 3rd. The ETA for our refrigerator at this point is late August. If we're "lucky". If anything, this process is teaching me patience. I've also come to the conclusion, that remodeling is like moving while camping at the same time.
Good News
On a positive note, we have finally settled on cabinet/island colors, so that's a good thing, and I think I'm zeroing in on light fixtures as well. I'm so excited to see everything come together, I can hardly stand it! I don't know if this photo does the colors true justice, but the perimeter cabinets (aside from the bank of cabinets where the beverage fridge is), will be Benjamin Moore's Pashmina (AF-100) and the island is going to be Sherwin Williams' Inkwell (SW 6992). I want a rich, inky blue, and this one fits the bill.
Thanks for hanging in there with me through this arduous process. It's definitely stressful, since all of the kids are here for the summer too (my daughter finishes school in early June). – But again, so much is out of our control, that we're just trying to roll with it.
If you want to read and check out some of my plans and inspiration – check these out:
Jenny