We are living life in a state of flux – out of our old house, yet not moved into our new one. Where are we? Back to my roots, living with the 'rents. Yep, my entire family of five has temporarily set up shop at my childhood home. So, since I don't yet have my new house to feature (although I have mentally moved in and have begun the decorating process), I figured I would share my mom's fantastic kitchen remodel. It's truly a spectacular transformation.
My parents live in a 1980's era tri-level home that is great for growing families. Yet, the kitchen just didn't work. I don't know what people were thinking with some of the features. Drop ceiling, flourescent lighting, pass-through areas vs. open, light filled spaces that cry out for parties and family gatherings. But, it is what it is, right? When we moved here, I was in 6th grade and just LOVED this house. I have a lot of great memories here, but was definitely glad to see the old kitchen GO. (And even happier that I didn't have to live through the remodel). 🙂
Be sure to click on the photos if you want to see a larger image. Especially the "after" shots.
80's Kitchen – Before:
U-shaped kitchen, complete with oak cabinets and drop-ceiling
Another view – you can see through to the family room here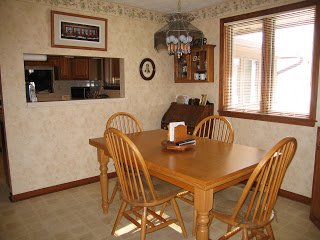 Separate breakfast room area

Another view of the breakfast room

Construction begins… This is the entire kitchen/breakfast room space, with wall and drop ceiling removed. Ahhh, what a difference the opened up space makes!
Kitchen/breakfast area opened up. You can see the mark on the floor where the footprint of the U-shaped kitchen used to be.

Another view – looking in to where the breakfast room used to be.
 
Kitchen view with window looking out to screened porch.

A work in progress – same view as above with base cabinets in place.

Kitchen progress – looking towards the family room. You can see the pass-through space is no more. That was opened up as well.

Finished product – view of kitchen with window that looks out to the screened porch.

WOW! What an open space! It's like square footage has been added to the house. All usable space.


Fridge space that was added by dipping into garage space.

A built-in space with added functionality that sits to the left of the fridge.

In review – to fully appreciate the transformation, here is another picture before the remodel:
And the amazing AFTER:
A view from the family room into the new kitchen.

Again, BEFORE (from the opposite end of the kitchen):
AFTER:

My parents have since added a new table and chairs as well as a tile backsplash, but you can see what an incredible change this kitchen remodel is. Now that the construction is over, they are enjoying every bit of it.