I finished this job awhile ago, but just recently received photos of it from the homeowner. This was such a fun project – the homeowner has amazing taste, and I loved all of her selections in transforming her kitchens without completely starting from scratch. The project included new quartz countertops, sink and faucet, backsplash, hardware, and trimming out her existing island and peninsula. A new light fixture is in the works as well, but for the most part, it's done. These cabinets are a bit different in terms of color, since she had a door sample that we had color matched. I think you're going to love this transformation with painted kitchen cabinets in custom gray. It's such a nice change from the norm, and I love seeing a finished project come together.
Kitchen Makeover – Before
The bones of this kitchen are good, and the homeowner has a knack for making things look pretty (her family room was a tip off to me), so I was excited about this job when I first met for a consultation. They had considered moving, but decided to stay put and didn't want to rip everything out, but still wanted a new look.
Kitchen Makeover – The Plan
We talked about finishes and the overall plan for the space, and I was inspired by the vision (and would love something similar in my own home, quite frankly). The quartz has a nice mix of gray and brown/beige, and the burnished brass hardware coupled with the painted kitchen cabinets in custom gray are a really sophisticated look.
The faucet alone is a work of art, don't you think?
But one of the other really big changes in this space was the custom trim that was added to the island and peninsula. It's truly a show stopper, and takes the whole kitchen up a couple of notches. Even before the countertops were installed, you could see what a big change this would make to this kitchen.
Gray Painted Kitchen Cabinets – After
I love, love, LOVE how this kitchen turned out. So classic and sophisticated. A change from all of the white that you see everywhere, but still bright and modern. They ended up going with a different pull because the holes that were drilled were just a hair off of the new ones. But I still think the final look is beautifully polished.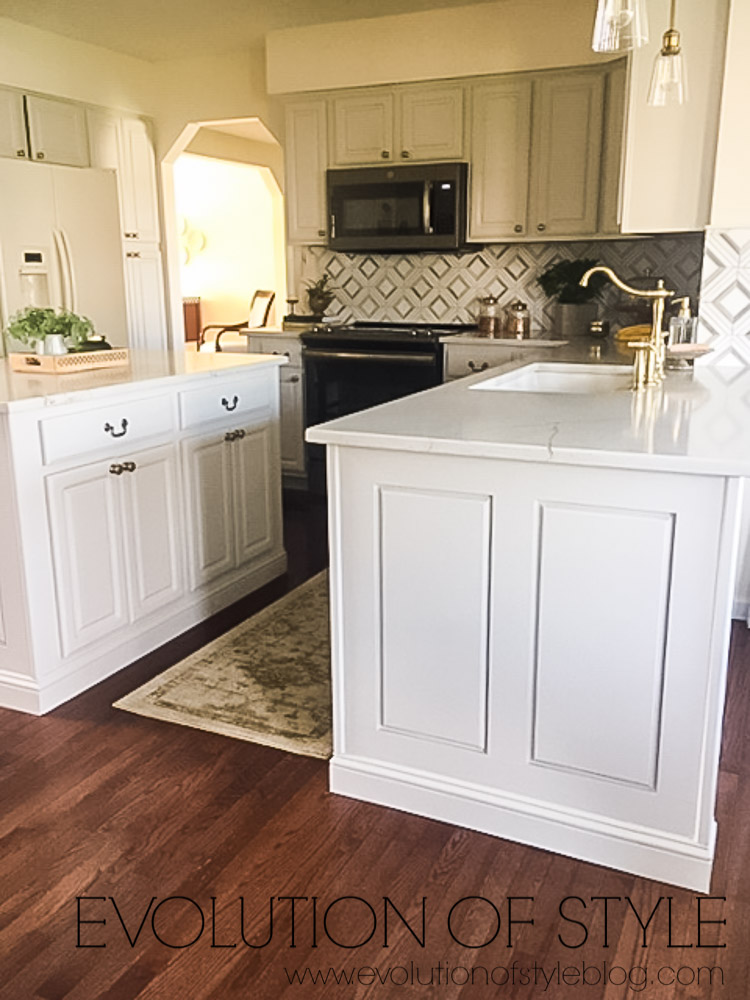 As always, it's a privilege to do this work, and I always love it when homeowners take the time to send me finished photos of their spaces, even after I'm long gone. What do you think of these painted kitchen cabinets in custom gray? Would you go this route as opposed to white? I most certainly would. Totally on board with this look.
I hope you're all staying sane during this challenging time and can appreciate some prettiness like this in your day. I think we all need some pretty right now.
Do you want to see other popular gray paint colors? Check out this post. If you're interested in how these transformations are done, check out this post here. Do you want to see kitchens in other shades of gray? Check out these beauties:
Painted Kitchen Cabinets in Sherwin Williams' Mindful Gray
Painted Kitchen Cabinets in Sherwin Williams' Dorian Gray
Two Toned Kitchen Cabinets in Sherwin Williams' Repose Gray and Gauntlet Gray
If you'd like to check out my favorite tools and products, you can find them here. Are you in the Dayton/Cincinnati area and need a quote? Contact me!
Jenny