Hello!
We've covered quite a few things so far as part of the "Painter in Your Pocket" series, but this topic is probably the one where I get the most questions. What kind of sprayer do I need? Will I be able to use it? Will it give me a smooth finish? How much will it cost? Lots of questions, and I'm hoping to answer them, while also sharing some paint sprayers that I have had the opportunity to use.
There are a lot of different paint sprayers on the market, and the choices can certainly be a bit overwhelming and intimidating. The prices can be all over the map, and I know I did a lot of research and reading when I decided to purchase my first paint sprayer, so I've been there. I'm hoping you can learn from my personal experience.
Given that there is so much to cover, I'm going to break this topic down into a couple of posts, so that this post doesn't get to be too overwhelming for your sake, and for my own. Are you ready to get started? I have had this post written up and in progress for more than a month now, and I'm just going to put it out there, cross my fingers, and hope that you find this first installment helpful. 🙂 This post contains some affiliate links to products that I know and use from experience, and trust them in the work that I do.
HVLP Conversion Guns
If you read my blog regularly, you know that my primary focus is on kitchen cabinets and furniture pieces, so I was looking for a sprayer with that purpose in mind. Granted, things have grown and changed over time, and my sprayer has changed along with it. For the sake of context, let's talk about my first sprayer – my trusty Wagner HVLP conversion gun.
This was a great way to enter into the world of HVLP (High Volume Low Pressure) paint sprayers, and it's the gun that I used when I painted my kitchen cabinets. I found it really easy to use, reasonably priced, and the end result was nothing short of fantastic. My cabinets look like they were factory finished, and this is the spray gun that made it happen. If I can figure out how to use this tool, you most certainly can.
How to Use It
This gun requires that you have an air compressor (which we already had – a six gallon Bostitch), and you can see that there is a regulator at the bottom of the handle (the round thing that looks like a gauge, if that helps). This is where you adjust the air pressure – but other than that, it is very similar to my newer paint sprayer (an HVLP turbine system, which eliminates the need for an air compressor, but more on that later). Here is the air compressor that I used with my Wagner HVLP Conversion Gun.
It's your basic 6 gallon compressor, 150 PSI, 3.7 CFM@40PSI, 2.8CFM@90PSI. CFM stands for cubic feet (per) minute, and it is relevant because it directly relates to the suitability of a compressor for a given application. I used this compressor with my conversion gun and it worked like a charm. I wouldn't go any smaller, but you could certainly go larger without an issue either. They don't make this exact compressor anymore, but there are plenty of six gallon air compressors to choose from here.
Much of learning how to use a paint sprayer is through trial and error. With the HVLP conversion gun setup, you need to set the pressure at the air compressor (according to the directions – but if memory serves, I increased the pressure on mine a wee bit. (Again, trial and error). Then you set the pressure at the regulator on the spray gun itself (according to instructions). Then, when you're getting ready to spray, you need to adjust the material flow (which controls how much paint comes out of the gun).
The round tip of the gun controls the fan pattern – whether it's a horizontal, vertical or circular pattern, and you can also control the size of your spray pattern. I suggest practicing on a piece of cardboard or something like that, so you can experiment with the settings and what the resulting spray pattern looks like. Here is a great guide to what your spray pattern should and should not look like, while also identifying what the issue is so that you can adjust.
Here's what your spray pattern should look like:
Here is a chart that can help you troubleshoot your spraying if you're having issues:
HVLP Turbine Systems
The HVLP conversion gun served me well for quite a long time – I painted our kitchen cabinets with it, as well as those for several clients. Once I started getting a more regular flow of new kitchen jobs, and knew that I was going to continue to grow, I decided it was time for an upgrade, and purchased a Titan Capspray HVLP Turbine system (mine is the Titan Capspray 95).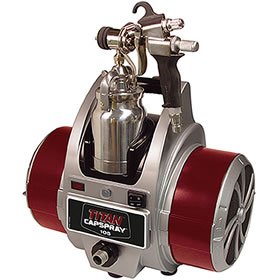 The beauty of this setup is that you no longer have to worry about using an air compressor, and there is no regulator on the gun itself. Everything is all contained in one unit. The turbine delivers a constant flow of power and pressure to the gun and you only have to worry yourself with adjusting the air flow and the material flow at the gun level (that would be the two little knobs at the top of the gun). See? All streamlined.
I'm speaking about the Titan Capspray, because this is the gun that I use and graduated to after using the HVLP Conversion gun. There are other options out there that I've seen and I know people use and are happy with them. A comparable turbine setup to the one that I have, would be this one from Graco. I will have to see if I can get my hands on some Graco sprayers to give them a whirl, because I know they're out there and available as an option.
Again, I'm putting this out there because it's an option, but I don't have any personal experience using it.
Keep in mind that turbine systems are an investment. Had I not continued doing kitchen cabinet jobs, I would have carried on with my trusty HVLP Conversion Gun. That said, I love this piece of equipment, and it has paid for itself many times over, and I have put it to task. It's a work horse, and has really been pretty low maintenance overall. I have replaced some filters, and I bought a new hose, but that's pretty much it. I did buy another gun, but that was for my own convenience, to have more than one on hand.
If you did make this kind of investment, I would also recommend the purchase of a "whip hose" to go along with the original hose. It's a short, lighter hose that attaches to the original hose, and it just makes it easier to move around and use the gun, and I have found it to be less stressful on my (elbow) joints when I'm working on a big job.
I have recorded a video of me using the spray gun, but haven't edited it to share (yet). Again, I said I was putting this sprayer post out there because I've been promising it for awhile, so bear with me friends.
Cleaning Your Spray Gun
The great thing about both of these sprayers is that they clean up the same way. For the most part, you just need to run warm soapy water through it once you're finished spraying (you spray the water the same way you spray the paint). There is no need to completely take the spray gun apart every time you use it. If my sprayer isn't putting out paint the way it should, I will take it apart a bit more and clean some of the vital parts (or replace them altogether).
I recommend having one of these cleaning kits because it really helps to get in the nooks and crannies when you're cleaning. I use the brushes all the time.
Sometimes I soak the parts around the spray nozzle to make sure that I get all of the residual paint removed (when they get particularly gunky). Krud Kutter Brush Wash is a great, non-smelly cleaner that I have recently started using for both my brushes and my sprayer parts. It gets the job done, without all of the stinky fumes. That's hard thing to come by these days. And, it cleans up after shellac and oil-based paints.
These are the parts I usually clean/replace if I'm having a problem (on both of these guns).
The Check Valve
The check valve goes between the gun cup and the gun itself, and has a tendency to get gunked up after a lot of use. Sometimes you can clean it and get it back in working order. Sometimes they just wear out and need to be replaced.
The Cup Gasket
These don't have to replaced often, but if you have issues with paint leaking or bubbling out of your gun, and can't resolve the issue with changing the settings, your cup gasket probably needs to be replaced.
The Nozzle
The last piece of equipment that I clean regularly is the nozzle (the piece in the middle of the photo below). Sometimes it can get plugged up if you're doing a lot of spraying (and you don't clean your gun right away – not that I ever do that…). Soaking it usually works (and this is where the brush also comes in handy, to make sure you get all of the residual paint removed).
The Needle/Projector Set
While we're talking about the nozzle – it's worth mentioning the needle, or projector set as it's often called (the long metal piece on the left in the photo above, in case there's any question). The HVLP Conversion Gun comes with a #1 projector set, which I used when I sprayed my cabinets. I also have a #2 projector set which I use often, and is geared towards heavier paints/primers. The Porter Paint primer that I use is pretty thick, so I like the #2 needle. Just something to consider – I don't want you getting unnecessarily frustrated. I've already done the legwork for you. 🙂
Whew! There we go. I think we made it through the first installment. What do you think? What questions do you have? In my next round, I'm going to talk about sprayers that are more of the "all in one" type of functionality. As always, I appreciate your feedback and your patience for how long this has taken me to put together!
If you missed the other posts from the "Painter in Your Pocket" series, check them out here.
Painter in Your Pocket: Let's Talk Finishes
Painter in Your Pocket: Painting Furniture
Painter in Your Pocket: Prep School
If there are other painting topics you'd like me to cover, please let me know – I'm here to help! I've had requests on prepping a kitchen for spraying – I will have to add that one to the list!
Jenny
Linking up: