Here we are, at the end of another whirlwind One Room Challenge. I added mine up, and would you believe this is my fifth One Room Challenge?!? Yes, apparently I'm a slow learner, and a glutton for punishment, because at the end of these challenges, I'm always wondering why I decided to do them. But truth be told, I love the rooms that I've done as part of these challenges, and the deadline forces me to make decisions that I would otherwise dwell on for weeks months. That said, this challenge has really been a tough one, but I'm excited to share how it ended up, despite my best laid plans. This post contains some affiliate links.
First off, let's take a look back at where it all began. The Hoarder's Paradise. I'm not really a hoarder, (says every real-life hoarder), but honestly, this place was just a dumping ground for everyone's crap. Christmas decorations, graduation stuff, craft supplies, you name it. So embarrassing. But, I did a lot of purging, donating, etc…, and while there is still work to do, some definite progress has been made.
Now it's a room I don't have to shut away or hang my head in mortification when repair guys have to walk through it to fix our water softener. So in that sense, it has been worth the stress in pulling it together. My daughter wants to make it her bedroom, so that tells you something, right? My friend Kim coined the phrase "Zen Den" – and I think it's a great description for this room. My blush and navy zen den.
My original plan was to make this a multi-functional space – a room for guests to sleep, space for my office and crafts, an area to lounge (and as my kids see it, another place to play Fortnite). That said, I didn't anticipate how tricky the layout of this room was going to be to deal with in accomplishing my goals. So, I had to evolve, adjust and change – roll with the punches. Full transparency, the room didn't end up the way I planned, but that's ok. This is real life, people. Sometimes, even the best laid plans don't turn out the way you want. And let's be honest, I'm not a best-laid-plans kind of girl. I'm more of a fly-by-the-seat-of-my-pants kind of girl. But it seems to work.
So, the office portion of this room redesign was sacrificed (for now), because I just couldn't figure out how to incorporate all of it and make it work. But, it's still a great space, and it will serve a useful and functional purpose.
I sold some things on Facebook, which freed up space for a new look.
While I love my navy upholstered daybed, I'll admit that on more that one occasion, I questioned whether it was the right choice. Perhaps a smaller sofa would have been better. The daybed is big, and I had to work the entire room around it as a result. The most logical, and aesthetically pleasing spot for it was the back wall, which limited my options for the setup of the rest of the room. However, I love the extra sleeping room, and we've already had a kid crash on it for the night, and a smaller sofa wouldn't have served that purpose.
The artwork in here was different than what I originally planned. I was thinking some cool abstract artwork would be pretty in here, but decided to take a chance and go whimsical with these cute canvases from HomeGoods. I'm so glad I did. They're bright and colorful, and tie in amazingly well with the color palette that I have in here.
Speaking of the color palette, my bedding fail with this Serena and Lily choice ended up being a blessing, as I wouldn't have used this rug otherwise. I needed neutral bedding in order to pull off the navy and pink rug, and the bedding fail allowed that to happen.
If it seems brighter down here, it's because it is. If you'll notice/remember, this room has no windows (as if it wasn't tricky enough already). Before, we just had the standard issue recessed lights that we have throughout most of our house.
I have mixed feelings about daylight lightbulbs in other areas of our house (my husband's office looks like a spaceship has landed in it), but for a room like this one, with no daylight, these lightbulbs are a game changer! So much better, you don't even care that there isn't a window.
The console was a late addition to the room, a find from Frontgate Outlet that was in their 80% off clearance section. It needs some TLC, and I expect that I will give it a facelift at some point, and paint it. But, since I didn't have time to do that, you get to see it in its raw state. It's slim (which I definitely needed down here), and it offers storage, since I lost some with my Facebook Fire Sale.
I added a few accessories and the blush colored lamp is a find from Target that was perfect for this room. This reversible sign is from HomeGoods.
Although I kind of like having the wood tones down here too. I'll give it some thought before I jump in and redo it. That's one thing that I had to keep from doing this time around. I didn't want to impulse shop, just to fill space and finish the room.
That said, you're probably wondering about the little nook area that I have in here. The poorly designed nook of madness.
This area got painted, but that's about where it ended. I didn't want to force something that I just wasn't feeling. Instead, I cursed the builder for this design element, and keep thinking it might be better suited as a closet entirely, or maybe some sort of storage functionality. I had considered adding shelving along the back wall, but it's so narrow, it's hard to find shelving that will work. A desk was another idea, but again, it's such a tight squeeze back here, that I just don't know 1) that it makes sense and 2) that I would even use a desk tucked back there. Truth be told, I'd rather park it on the daybed and take a nap do some work there.
So, here it is – empty and blank. But you can see by looking at the photos, why it's such an awkward space to make functional. I've decided not to force it, and will let it evolve when an idea comes to me. It's much less stressful for everyone that way.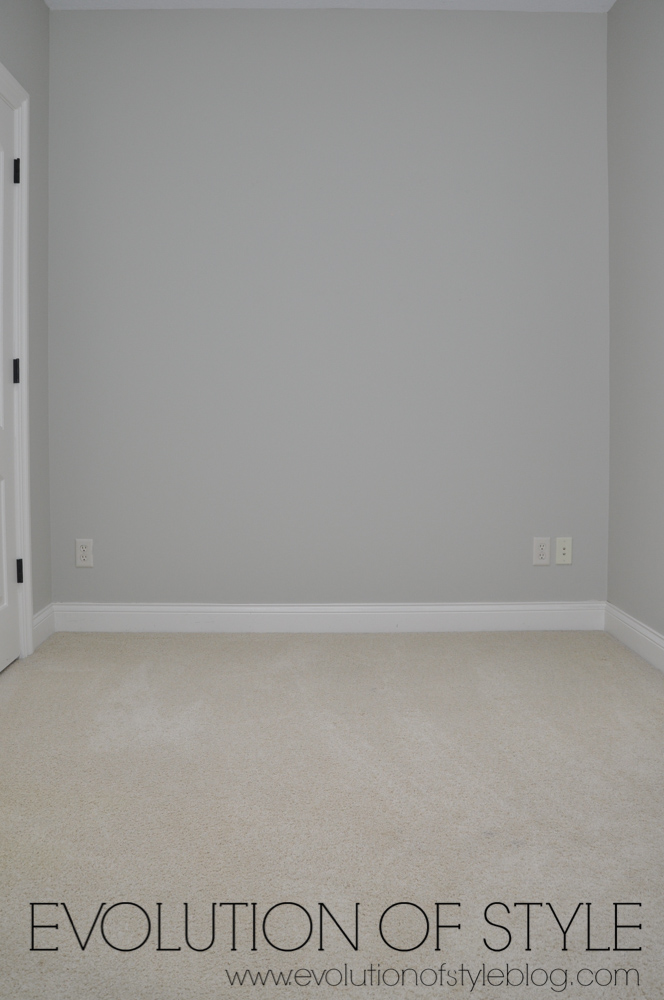 I did see this at IKEA, and love the idea of it. But with all of the doors I have going on in here, I don't think it will work. But it's still pretty – in theory, anyway.
So let's end on a high note, with a few more photos of the space that was finished.
Sources
I'm going to put all of my sources together for this room now, so I don't forget!
Suzette Ceiling Mount Light Fixture – Ballard Designs Outlet
Upholstered Daybed with Trundle – Wayfair
White Quilt – Steinmart
Throw Pillows – HomeGoods
Console Table – Frontgate Outlet
Artwork – HomeGoods
Blanket Basket – HomeGoods
Ceiling Light – Ballard Designs Outlet
Slipper Chair – TJ Maxx
Paint Color – Hazy Skies (Benjamin Moore)
Thanks so much for following along this process (again). I'm so glad that I hopped in again (now that it's over), and the One Room Challenge has become a household name around here. Maybe I'll tackle my college son's room in the fall (when he's gone and won't be here to mess it up). 😉
If you want to check out my previous One Room Challenge spaces, check them out here:
One Room Challenge – Master Bathroom
One Room Challenge – My Favorite Tween Girl's Bedroom
One Room Challenge – Teen Boy's Bedroom Makeover
One Room Challenge – Navy Inspired Dining Room
Jenny
Linking up: