Hello!
With the uptick in kitchen jobs I've been doing, one recurrent theme that homeowners struggle with, is the ugly, builder-grade, laminate material that is found on a lot of end cabinets, islands and peninsulas.  How do you go about updating end cabinets to make them look more custom and high end?  When you're in the midst of doing a mini-renovation – painting cabinets, updating a backsplash and adding new countertops – it's a perfect time to look at your options, and there are lots of them.
Beadboard
This is a great option that is pretty easy to do as a DIY project, and it offers a finished look, with some cottage character too.
Criss Cross
If you're feeling particularly confident in your carpentry skills, you can go bold, and do a more custom design, like this one.  If this doesn't say custom, I don't know what does.
Plank It
When you're dealing with a large swath of space, like you have with an island or a peninsula, you need to do a bit more planning.  But again, there are so many options to be create a custom look for your home.  Look at this amazing planked peninsula from The Happy House.  Talk about creative and custom – those corbels and shiplap style are stunning – proof positive that you can turn boring and blah into beautiful.
Here is the before (like so many peninsulas in the country):
Can you even believe it's the same peninsula?  Fantastic!
Board and Batten
Look at this island makeover from The Dizzy House.  Yes – it's the same island, refreshed and trimmed out to look custom.  Gorgeous.
In this client kitchen redo, the homeowner was lucky to have a handy father who helped give her island a whole new look.  Here's where it started:
And once it was complete –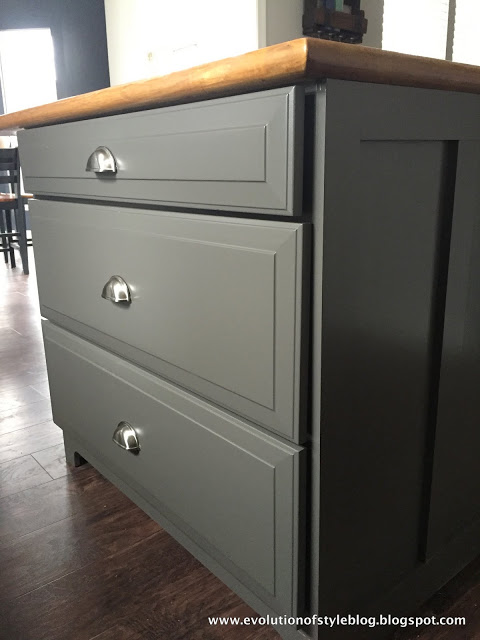 You can see that the sides were trimmed out as well – a completely new look, using the bones of the existing island.
Beadboard+Board and Batten
I just recently shared how my most recent kitchen client updated her peninsula (which had non-functional doors and drawers on the outside).  So much better!
And then there's this beautiful peninsula makeover from Remodelaholic – talk about a wow factor!
And these are all projects that are completely doable by YOU!  That's the best part.  So, you don't have to live with the builder grade look – give it an update!
Have a wonderful day!
Jenny