Hello!
I don't know how, but we're down to the wire again with the fall edition of the One Room Challenge at Calling it Home. If you've missed any of the action, you can catch up really quick:
Really, for me, it should be called the One Week Challenge, because I think that's when I get a majority of my projects finished – when the deadline is looming. I'm the type that seems to work best under pressure – although I'm sure my family would beg to differ.
In my defense, I was out of town Sunday – late Tuesday night of this week learning more about Amy Howard's line of paint and finishing products, which means I'm filled with lots of ideas and inspiration, and am having a hard time staying focused.
So, what's new, right? Me? Unfocused? As if.
But there has still been some progress. Still lots to do, but I'm going to crank it out in the homestretch. I promise.
The big thing that has been (almost) checked off the list is the drapes. I mentioned we were out of town, so my parents were here watching the kids, and my mom is almost finished with the drapes. They. look. awesome. We my mom still needs to add the pom pom trim, but I'm really pleased with what they add to the room. Not the best photos, I know. I didn't go to sleep until almost 3AM last night, so cut me a little slack this time, ok?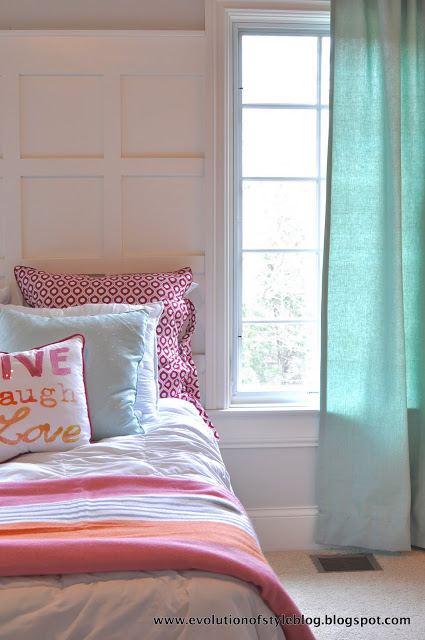 A comparison shot from last week:
Perhaps I need to remind myself you of how far we've come:
I did return the throw blanket that I bought that was a wee bit too bright. I think the colors in this blanket will work the best and will be beautiful with the paint I'm using on the nightstand.
Speaking of the nightstand, it's in the works as well:
I had a setback when I realized how much the oak grain was peeking through the primer. So, I'm filling in the grain and hoping to get some painting done as we head into Week Six.
I also bought the fabric and supplies for my for my (large) fabric covered bulletin board project. Now I just need to figure out how I'm going to put it all together. It seemed pretty straight forward at the time I thought of it in my head…
The goal is to have it framed and installed under the IKEA Lack Bookshelves that have been collecting dust for the past five weeks. But I didn't want to install the shelves until the bulletin board was done. Contingencies are killer, aren't they?
But the fabric is pretty, isn't it?
I've also been gathering accessories and hiding them away from my daughter for "the big reveal" and having lots of fun bringing in bits of gold as well.
I will surely be a crazy person over the course of the next week, but I'm hoping planning for a beautiful room for my girl when it's all said and done.
I feel eerily calm right now, which is really starting to freak me out. Maybe it's because it's my anniversary today, and I've been married as long as someone who can drink. Legally, that is.
I absolutely love this photo. It is, by far, my favorite photo of us taken together, and I think it sums up our relationship pretty well. 🙂
Don't forget to check out all of the progress and collective panic at the link up –
And since I've been off the grid this week, brace yourself for some gift guides gone wild…